Dining at Barr
Barr is a casual restaurant and bar, a place to drop by with friends or family for a beer and a snack, a quick dinner, or a full tasting menu offering our classics and favorite dishes. We are open for dinner seven days a week, and serve lunch on Friday, Saturday and Sunday. We offer an à la carte menu as well as a four-course set menu for DKK 600, which changes throughout the year.
With a 30 seat Beer Bar adjacent to the dining room, our menu has a strong focus on beer and aquavit, but we also offer a selection of cocktails and wines. Drinks from the bar can both be enjoyed in the dining room, or in the bar itself where we also offer our full menu.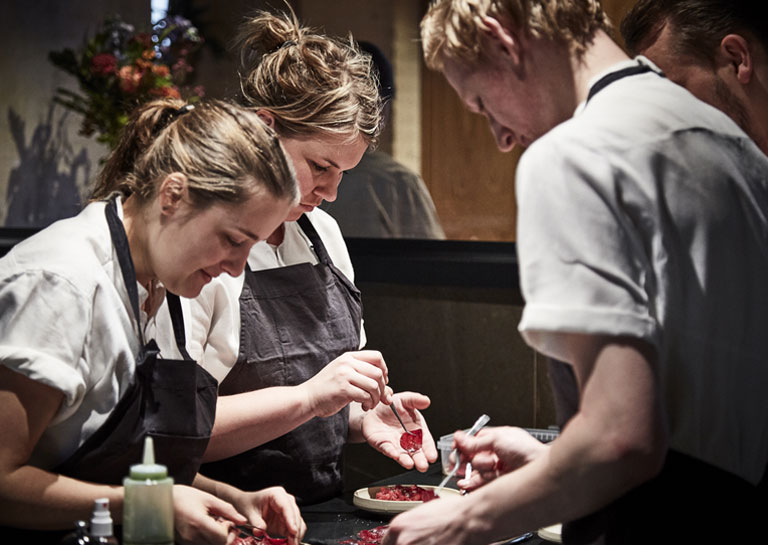 Exploring the Northern Sea Cuisine
In the same way that Mediterranean cuisine is the collective sum of the food traditions in the countries speckled along the Mediterranean ocean. At Barr, we hope to uncover the cuisine that ties together the traditional eating and drinking habits found along the North and Baltic Seas; an area stretching from Ireland and the United Kingdom, to Benelux, Germany, Poland, the Baltic countries, and Scandinavia. At Barr, we constantly seek to explore these traditions, to be creative while still honoring the classic dishes, and to offer the most delicious version of the Northern Sea Cuisine that we can.
We hope to welcome you soon!
Thorsten & the Barr team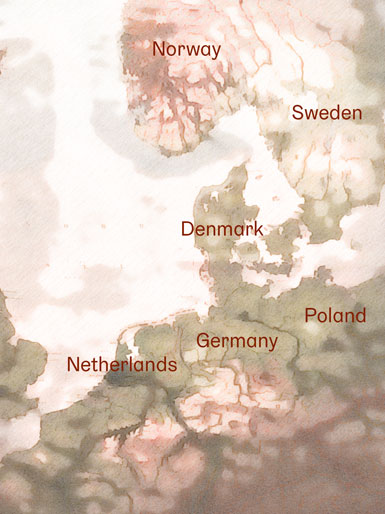 The Northern Sea Region
It only takes a bit of digging to discover the vast similarities in food and drink traditions in this region. Even the word itself, barr, ties this region together. Barr means crop in Old Irish, and barley in old Norse, a historically vital crop to this region and its traditions.